VTP Enviro
Enviro is the VTP runtime environment. It provides an interactive, realtime 3D navigation of your virtual terrain. There are two primary view modes: Earth and Terrain. At startup, you chose which view you want to start with, and you can switch at any time.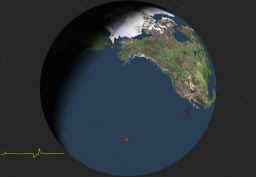 Earth View
viewing the planet from space
navigate and zoom
displays the extents of each known terrain area, click to enter
more features: toggle sunlight, display point data, trace shortest-path geodesic arcs
Terrain View
loads all the elements of the scene: elevation data, ground textures, roads, buildings, vegetation, vehicles, etc. composed by the VTP toolbox applications
lets you walk or fly around
interaction currently includes:

browsing the scene graph
changing the camera and rendering settings
changing the terrain detail level
adding and trees
adding fences
moving and editing buildings
save changes to vegetation and structures

Enviro's Mouse Navigation is easy to learn
if there is anything you'd like to able to do with Enviro that it doesn't yet do, let us know!
Enviro binaries, source, and demo data are available as part of the full VTP distribution, which is freely available.
Documentation
There is Enviro documentation online.
There are also tutorials on how to use Enviro together with the rest of the VTP software on the main Documentation Page.